Thursday, January 15th Opening Events
7:00 p.m. Panel Discussion
C. Shaw Smith 900 Room, Alvarez College Union
Featuring Dr. Rosemarie Garland-Thomson, Dr. Ann Millet-Gallant,
Laura Splan, Harriet Sanderson, Jessica Cooley and Dr. Ann M. Fox
download map to College Union (pdf)
8:00 - 9:30 p.m. Exhibition Opening & Reception
The Van Every/Smith Galleries in the
Katherine and Tom Belk Visual Arts Center
Join us for a dessert reception and to view the works of Nancy Fried,
Harriet Sanderson, Rebecca Horn, Judith Scott, and Laura Splan
---
The Van Every/Smith Galleries at Davidson College will present the first exhibition to address the intersection between disability identity and female identity in
RE/FORMATIONS: Disability, Women, and Sculpture
. On view from January 16 – February 27, 2009, five female artists, four of whom are disabled, will exhibit sculpture that examines disability not as mental or physical insufficiency limited to a small minority, but as a widespread and diffuse cultural identity, like race or sexual orientation. This is not art as therapy or rehabilitation. It is art emerging from within disability culture that is at once activist and aesthetically innovative.
RE/FORMATIONS
fills a critical gap in the national discussion on disability. Why is it important that the disabled and non-disabled women featured in
RE/FORMATIONS
explore structures of normalcy — bodily, sexual, gendered, sculptural? What happens when disabled women, doubly "othered" in mainstream society by virtue of their gender and physicality, choose to explore that intersection in the historically male-dominated medium of sculpture.
View More Information on this Exhibit Online
(Available Monday, January 12th)
---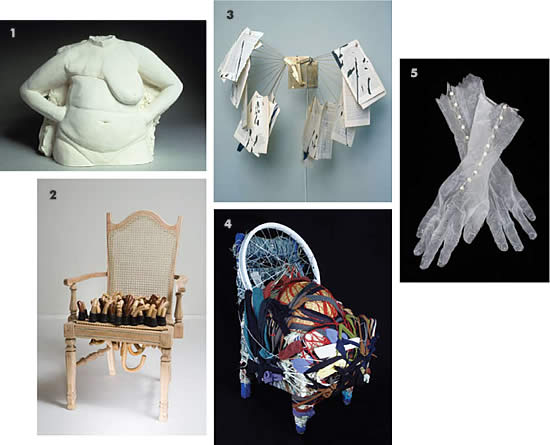 ---
1. Nancy Fried, Torso with Hands on Hips, 1994 Terra cotta, 12 x 17.25 x 7 in
2. Harriet Sanderson, Untitled, 2007 Chair, cane stubs, rubber NEVA-SLIP tips
3. Rebecca Horn, Amerika, 1990 Book pages, feather, paint, rods, motor, 17.5 x 17 x 11 in
4. Judith Scott, Untitled (JS 33), 2004 Fiber and found objects, 17 x 21x 29 in
5. Laura Splan, Gloves #1, 2008 Cosmetic facial peel, mixed media, 1x12x3.5 in (each glove)
---
RE/FORMATIONS: Disability, Women, and Sculpture
is made possible through the generous support of: The Mary Duke Biddle Foundation • The Ethel Louise Armstrong Foundation, Inc • Wachovia Corporation and Davidson College Friends of the Arts • Womble Carlyle Sandridge & Rice, PLLC • Anonymous • The following Davidson College affiliates: The Public Lectures Committee, German Department, Gender Studies Concentration, English Department, Medical Humanities, and Dean of Students Offices • LifeSpan Incorporated • The Arts & Science Council and the Grassroots Program of the North Carolina Arts Council (a state agency). • The National Endowment for the Arts • And the North Carolina Arts Council with funding from the state of North Carolina and the National Endowment for the Arts, which believes that a great nation deserves great art.
---
GALLERY HOURS
Weekdays: 10am - 5pm
Weekends: Noon - 4pm
All programs of the Van Every/Smith Galleries are free and the public is welcome.
Guest parking is available behind the Katherine and Tom Belk Visual Arts Center.
---
For more information on this and other programs of the Van Every/Smith Galleries, please visit
http://www.davidson.edu/art/galleries
.